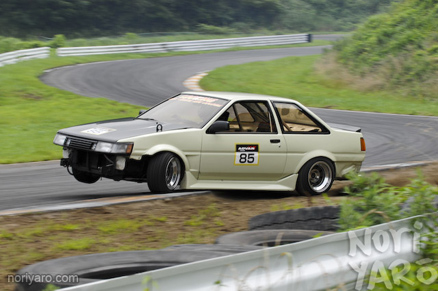 It's a Coffee-inspired, Hayashi Street Finned, curb hopping maniac! Alexi @ Noriyaro has a couple of stories up about this creamy coupe.
This rather neat AE86 belongs to a guy who goes by the nickname "Asayan". Asayan works at a body shop in Osaka called "Looking", who are well known for their extremely stylish paintjobs. Not only that, Looking are obsessed with drifting as well, and run several "HitomiGo" events a year at Meihan Circuit, named after Hitomi, the other half of Looking.
So check out the statics (when it's not hanging five @ Maze Circuit) and motion shots (when it is) over at Noriyaro!